---
We recognize that all our patients are unique and deserve to receive dental care that reflects their individual needs. Our experienced and talented dental team is committed to working with you and your family to create a comfortable, stress-free, and rewarding dental experience every time you visit our practice.
We are pleased to welcome you and your family, and we look forward to working with you.
Lake Nona Team
Celena
Dental Assistant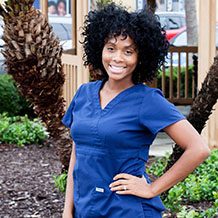 It's rewarding to be part of a great practice, where we make sure children grow up with beautiful, healthy smiles! I especially love working with patients who arrive afraid and helping them learn that nothing bad happens here. I seat patients and make sure they're comfortable in the chair. Patiently and using age-appropriate terms, I explain what we'll be doing and what they will experience. I take X-rays, clean teeth, apply fluoride, and assist the doctor with various procedures. My most important task is making sure patients are smiling when we're done!
Krystal
Accounts Payable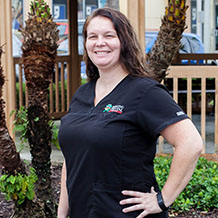 I love being part of a team that helps children smile. Our doctors and dental assistants take the time to talk with patients and parents during visits. They make sure everyone knows what's going on and is comfortable. My children come here and love visiting the dentist! I help make sure our business runs smoothly by assisting with accounting and administrative duties.
My children, Elijah and Gideon, are the light of my life. We love building with Legos, playing board and card games, and reading. As a family, we enjoy participating in activities with Nathaniel's Hope, which supports children with various difficulties, and UCF CARD, which supports children with autism.
Maria
Dental Assistant

I love when I'm able to help a kid feel safe and see them relax and laugh with us. Sometimes children are scared of new places and things. Our doctors and staff are patient and kind. We work with each child to help them overcome their worries. It's a great feeling when kids tell us they're looking forward to coming back! I prepare treatment rooms, take and develop X-rays, sterilize instruments, and track our inventory. I also educate patients and parents about taking care of their smiles.
My husband's name is Daniel and my kids are Daniella and Alejandro. We have a dog, Sebastian. I love baseball, especially when my son is playing, gardening, and reading. I'm a member of the worship group at my church, too.
Roselynn
Office Manager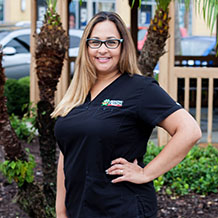 I love knowing that, through my work, I can make a difference in a child's life. Every day I see before-and-after photos of our patients and know I helped make their smiles brighter, healthier, and happier. Our doctors and staff have a common goal: to provide the best possible care for each child. I manage daily operations, to ensure that the offices run smoothly and address any concerns with the staff.
Born in Florida, raised in Puerto Rico, and moved back to Florida. I have two beautiful children. Angel and Isabelle. I love spending time with them. I also have four dogs! Enjoy the beach and shopping.
Yomayra
Accounts Manager

I love being able to work and interact with parents and their children. It's wonderful to be part of a team that provides positive dental care and delivers health-filled, beautiful smiles! I enjoy that I can offer all my skills as an account manager and provide excellent customer service to earn the trust of our patients and make them feel comfortable.
I was born in Puerto Rico and raised here in Florida. Justin is my wonderful husband and I have three amazing children: Christopher, Christiana, and Yanley. I also have four great dogs. Outside of work, I love to keep busy: going out to eat and shop, and being with my loved ones.
Kassandra
Patient Coordinator
I greet and welcome patients and parents to make them feel welcome and assist in getting them checked in and ready to be seen. I love working with the kids and their parents and genuinely enjoy getting to know them.
I'm a wife and mommy of two beautiful kids. I love spending time with my family!
Paola
Insurance Coordinator
My specialty is insurance, so I verify what our patients' insurance covers, how much it covers, and the correct fees for any procedure codes. My favorite part of each day is interacting with the patients during their visits. I love seeing their little smiles grow up to be healthy and big! I work in the Lake Nona office, and the bonds that our team have are very special since we can all be ourselves and we all feel comfortable. They are my daily motivation!
I have spent the last four years studying to obtain my achelor's degree in graphic design in the character animation field. I have been drawing since I was a child, and since then, I have been very interested in everything that has to do with art. I played volleyball from when I was seven years old until my sophomore year in college, but whenever I have a chance, I still play. I was born and raised in Puerto Rico so my favorite place is the beach!
Nona South Team
Amy
Dental Assistant

I love helping kids feel comfortable about coming to the dentist. We have such a fun, supportive environment that even the timidest patient soon relaxes and starts talking and laughing with us. I also enjoy supporting our parents and reassuring them that their child is in caring hands. I provide chairside assistance during different procedures. I also perform gentle cleanings, take X-rays, and place sealants. In addition, I handle our inventory and sterilize instruments.
I love eating, shopping, going to the beach, traveling, and, of course, I love doing these things with my kids! I have two young sons who are the lights of my life. We don't currently have any pets but are looking forward to adopting one soon!
Mayerlin
Accounts Manager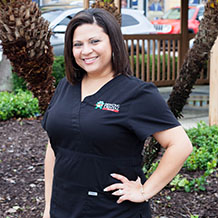 I love having a job that lets me work with children and parents. I love helping children feel better about their smile and themselves and watching each child grow up with great oral health. I educate and work with new and existing patients so they understand what's happening in their mouth and what we need to do. Along with our doctors and team, I strive to make every visit fun, carefree, and educational. We want people to look forward to seeing us and know that we look forward to seeing them!
My husband Cesar, our two daughters Carolina and Alexandra, and I live in Saint Cloud. Our free time is spent living life to the fullest, as a family. Cesar and I are so proud of our daughters and enjoy going to their gymnastics and swimming competitions and watching them grow.
Mariana
Dental Assistant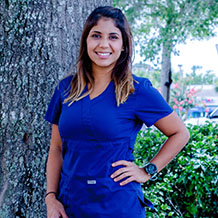 I really love working with kids. They bring so much energy and happiness to our office! It's the best feeling when they tell me they like visiting the dentist and give us hugs at the end of their visits! I bring patients into the treatment area and collect the information necessary for the doctor's evaluation. Working chairside, I assist the doctor with the procedure, but my focus is always on making sure our patient is comfortable.
I've been happily married since 2005 and have two young daughters who love me every day. My family is my biggest blessing! I also have a beautiful puppy. I like to eat healthily, go to the gym, and, most of all, be with my loved ones.
Winter Park Team
Alex
Dental Assistant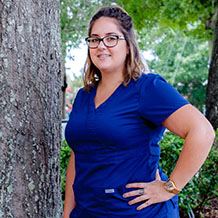 I love connecting with our patients and making sure every child feels welcome and safe. It's important to grow up excited about taking care of one's oral health! I work in the clinic: seating our patients, making sure they're comfy, and explaining what's going to happen. Keeping a kid calm is important! I assist the doctor during treatment and exams, take X-rays, and do my best to keep our patients smiling while they're here.
I share my life with my boyfriend Kyle and our two adorable dogs. We enjoy the outdoors and love going fishing!
Diana
Account Manager
I am here to assist our families with all their insurance and financial needs. My favorite part of my job is being a part of an amazing team that helps a child have a healthy and beautiful smile. It's very rewarding to see our patients leave happy and with eagerness to maintain great dental hygiene.
I was born and raised in Venezuela and have lived in Orlando for the past decade and a half. I love going to the beach, listening to music, and spending time with my loved ones.
Margie
Patient Coordinator
I'm one of the main points of contact our patients have with the office, whether via phone or email. I'm also one of the first people to greet patients and parents when they come in the office and check in. I try to maintain a great ambiance and stay positive all the time, so you'll always see me with a smile!
Born and raised in Puerto Rico, I moved to Miami and after six years, we moved to Orlando. I'm a proud mom of one son with my hubby, as well as three dogs and an African gray parrot. I love staying active at the gym and running outside, shopping, and going out with family and good friends. I'm a motivational person and love living my life every day!
Maria
Account Manager
As one of our account managers, I make sure our patients' financials are up to date and the insurance claim process runs smoothly. I enjoy learning new things every day and hope that all the knowledge I've gained by working here helps give our patients a positive experience in our office.
I love spending time with my family and reading, and you can always find me at Starbucks or Target!
Noekitza
Patient Coordinator
I can be found in the front office, where I schedule appointments, check patients in and out, and answer phone calls and emails. I enjoy interacting with the patients and their parents, especially meeting new patients and forming professional relationships with them. I appreciate the overall respect and kindness the whole team brings to the Pediatric Dental Group. We are a team in the truest sense of the word!
I was born in Manati, Puerto Rico, and currently reside in Orlando with my Dachshund named Blu. Whether I am traveling, at the beach, riding 4-tracks, or just grabbing brunch, I enjoy a little bit of everything in my free time. It is always fun to try something new for me!